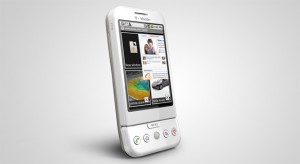 If AT&T had joined hands with Apple to sell iPhone then T-Mobile has come up with Google and HTC for first ever Android based phone G1.
T-Mobile, HTC and Google had launched the first Android based mobile phone in New York on September 23, 2008. It will be available in U.S. market next month from October 22 with a price tag of $179, which is $20 less than the arch rival Apple iPhone 3G.
Following are some of the features posted on HTC official site
3.2-inch TFT-LCD flat touch-sensitive screen with HVGA (320 X 480 pixel) resolution.
Full 5-row QWERTY keyboard.
One-click Google Search.
Customizable Home screen with instant Email, text message and IM notifications.
Instant access to Google services (Gmail, YouTube, Maps, Google Talk, Calendar).
High-speed 3.5G network connection.
Wi-Fi technology with seamless transition to open networks.
Android Market with access to variety of software and media downloads. (some fees may apply)
3.2 megapixel color camera with auto focus.
microSD™ (SD 2.0 compatible) expansion slot for all your storage needs.
G1 Official links
Now the question is how will Microsoft lust the customers to stay in the mobile OS battle with Apple and Google. Where Google Android and Apple iPhone are offering free applications through their online application stores, Market Place and App Store respectively, Microsoft has not yet announced any similar strategy.
Whereas the Google and Microsoft has the edge over Apple because they only need to work seamlessly on the OS part of the mobile only, Apple has to plan for the hardware also. As per the analysts G1 can not make the similar impact as the iPhone.
"I am not sure people are going to be lining up at stores for this device," said Rajeev Chand, an analyst with Rutberg & Company. "The iPhone was a game changer from a consumer perspective. The Google phone may be more of game changer from an industry perspective."
Well, who will take the edge will be clear in the coming month when G1 will come in the hands of the consumers and techies.
[poll id="6″]